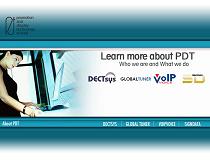 Promotion and Display Technology Ltd. is a hi-tech UK based company formed in 1988 and over the past 15 years has designed, manufactured and supplied many products to some of the of world's greatest companies.
Although unknown to the end user (PDT never use its own brand) PDT has become famous in the Telecom Industry for providing unique CPE to some of the worlds major Telco's. PDT has also been very successful in designing and originating novel products used by telecom networks to encourage take-up and usage of network services which have been extremely successful.
PDT concentrate on the following areas:
Traditional CPE


These products are consumer products such as feature phones, answering machines, caller ID units etc. They are all designed at PDT UK R&D facility and all incorporate novel features which differentiate them in the crowded marketplace. PDT also innovates and introduces new products by creating new product categories.

Promotional Telecom Products


This area is where the company excels. PDT has a product for every network service conceivable to man and a few for services that nobody has thought of yet. All the products comply to carefully researched criteria, namely novelty, desirability and low cost, so that giveaways can be amortized in 1 or 2 quarters by the Telco and ease of use which encourages take-up and call stimulation by the end user.

Patents & Licensing


By far the most exciting area of the business. PDT owes many patents and ideas that range from ways of exploiting the fixed copper network to the maximum right up to a world beating MP3 product. PDT also owe the rights to SuperCID, a new standard that allows Type II caller displays to be built for the same price as current Type I caller displays.
The 3 main aims at PDT are to innovate, innovate and innovate. They back this innovation up with a superb team of administrators, a manufacturing facility in Shenzen, China and leading edge communication infrastructure. The end result is that PDT consistently delivers the best to their customers and continue expanding year on year at a swift but manageable rate.
From here you can explore PDT website and learn about who they are and what they do.