About USB PC-Telephone
PC-Telephoneฎ is a powerful communications software application that enables you to exploit the full communications potential of the Internet and public telephone networks ISDN/PSTN. PC-Telephone turns your computer into Internet telephone, ISDN telephone, fax machine, answer phone, voicemail, file transfer and much more.

Features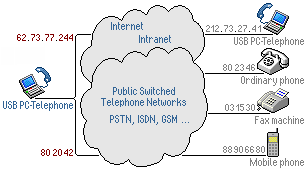 Telephony:
All normal full-duplex telephone operations – enables you to place and receive phone/fax calls PC-to-PC, PC-to-Phone/Fax and Phone/Fax-to-PC. You can make phone calls using your PC sound card or USB telephone device.
Calling Line Identity Presentation/Restriction (CLIP/CLIR) – displays the caller's number when the phone rings (caller ID).
Call Answer – answers automatically incoming calls after a specified delay.
Call Scheduling – dials automatically phone/fax numbers at a specified time.
Call Forwarding – forwards automatically incoming calls to a predefined number.
Call Transfer – transfers an active call to another number.
Call Waiting – enables you to switch back and forth between active connections.
Call Hold/Muting – temporarily blocks the remote party from hearing your voice. A playback can be placed on the line instead.
Call Accounting – logs all successful calls in the Journal. Unanswered calls are logged in the Missed Calls folder.
Audio Conferencing – ensures simultaneous multi-party telephone conversation.
Full-Duplex Recording – records telephone conversations.
Encryption – encrypts telephone calls. This feature is applicable for PC-to-PC phone calls only, regardless of the network used.
Data Transfer:
Direct Data Transfer – sends/receives files using different communications networks. The data transfer speed depends on the hardware used (Ethernet Card, ISDN Card, Modem).
Scheduled Data Transfer – sends automatically the selected file at a specified time to a specified number.
Fax Transfer:
Direct Fax Transfer – sends/receives fax documents including analog Group 3 and digital Group 4 faxes to/from PC or regular fax machines.
Scheduled Fax Transfer – sends automatically the selected fax file at a specified time to a specified fax number.
Voicemail:
Multiple User Mailboxes – enables you to make mailboxes for your friends or clients leaving voice messages for them. They can remotely access their mailboxes by DTMF (Dual Tone Multiple Frequency) access code from any phone.
Public Mailbox Support – enables you to place public domain announcements in the Public mailbox. Together with the Call Answer options it turns your PC into an answering machine.
Instant Voice Messages – sends instant messages to any phone, by placing an outgoing phone call in the Outbox.
Listen Messages Remotely – enables you to listen received new voice messages remotely using a regular phone.
Call Screening – enables you listening to callers as they leave messages. The caller does not hear you.
Limited Message Duration – limits the incoming voice message duration and the start/end tone notifies the caller to complete the message.
PC-to-PC Calls over Internet

Use PC-Telephone to make unlimited FREE PC-to-PC calls over Internet. Enter in the Phonebar the IP address or name of your contact party's PC and press the Dial button while you are online.
Your IP address is your Internet phone number. Find your current IP address in the IP address combo box (Network-IP options) after establishing the Internet connection.
PC-to-Phone/Fax Calls over Internet

You can call regular phone/fax numbers from your Internet connection if you place your calls through a PC-Telephone gateway.

Dial in the Phonebar a phone number with the following format: ip_address#phone_number, where "ip_address" is the IP address or name of the PC-Telephone gateway your call is transferred by and "phone_number" is the regular phone/fax number you like to call.

The "phone_number" should consist of only digits.

PC-to-PC Calls over ISDN

If you have ISDN (Integrated Services Digital Network) PC-Telephone turns your PC into a digital telephone and you can use it on the same manner as you use your regular phone now.
You can make and receive phone/fax calls to/from any regular phone/fax, either digital or analogue. Use digits only when you dial regular phone/fax numbers from your ISDN connection.
PC-Telephone enables automatically the Network-ISDN options if you have a CAPI 2.0 compliant ISDN card/modem installed.